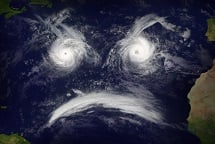 DialMyCalls.com offers automated weather alerts for its members to prepare for hurricane season 2013.
The 2013 Atlantic hurricane season will officially begin on June 1, 2013 and according to experts, it's going to be an "above average" season this year. Philip Klotzbach and William Gray, meteorologists at Colorado State University, predict 18 storms, nine of which will strengthen into hurricanes. (
Source
:
ibtimes.com)
[click to continue...]
New York declares state of emergency due to the extreme influenza outbreak throughout the state.
According to Fox New Latino, New York Governor Andrew Cuomo has declared a public health emergency as a result of the extreme outbreak of influenza in the state. The online new agency goes on to state that at least two children have died since October (2012).
Governor Cuomo stated that the flu season will not be over until May and the health epidemic is "the worst since at least 2009." According to a recent study, approximately five times the amount of flu cases have been registered in New York this season as compared to last season. (19,128 cases vs. 4, 404) That number is quite staggering which is why a system needs to be in place to alert citizens of extreme medical conditions which directly poses a threat to the entire state.
[click to continue...]
Sign up now and try our services for free!
Use the promo code DMCBLOG and get 25 free extra credits